Powdered Milk Container
<! –– Bazaarvoice Shopify Integration Version 2.1 ––>

The Pigeon Powdered Milk Container is ideal for storing baby formula and/or snacks whilst out and about. No more lugging around the entire tin of formula!
Featuring a top nozzle for an easy pour of your baby formula and three separate stackable compartments that can be separated and used for single use.
Pigeon baby milk powder dispensers are specially designed to allow your formula feeds to be made up accurately when you are out and about. Minimising wastage.
Light and compact, easy to carry and budget friendly.
Shipping
We offer free shipping for orders over a various thresholds and charge a flat rate of $12.50 for all other domestic deliveries.
Please allow up to 3 days for metro delivery and up to 6 business days for regional delivery.
Returns
At Pigeon, we are happy to offer you a return for change of mind within 14 days of delivery, on most full price items.
Visit our Shipping and Refund Policy pages for full information.
FREQUENTLY ASKED QUESTIONS
FREQUENTLY ASKED QUESTIONS
Can the Pigeon powder milk container be sterilised in a steriliser?
Yes! You can wash and sterilise your Pigeon Milk Powder Container like you would your other bottles and teats.
Is the Pigeon Milk Powder Dispenser BPA free?
Yes! In its continuous search for the best materials for use in its products, Pigeon uses materials with improved performance characteristics that are BPA free.
Does the formula dispenser require sterilising before and after each use?
You can sterilize your Pigeon Powdered Milk Dispenser as you would your bottles and teats. Microwave Sterilisation using the Pigeon Microwave Bottle Steriliser is suitable every now and then. If the wattage of your microwave exceeds 800W, you only need to sterilise for 3 minutes.
How much baby formula does it store?
Perfectly fits in your hand or baby bag, each compartment of the Pigeon travel milk powder container has a 90ml capacity. For a total of 270ml. Making it convenient to take while travelling or visiting out with other babies and infants.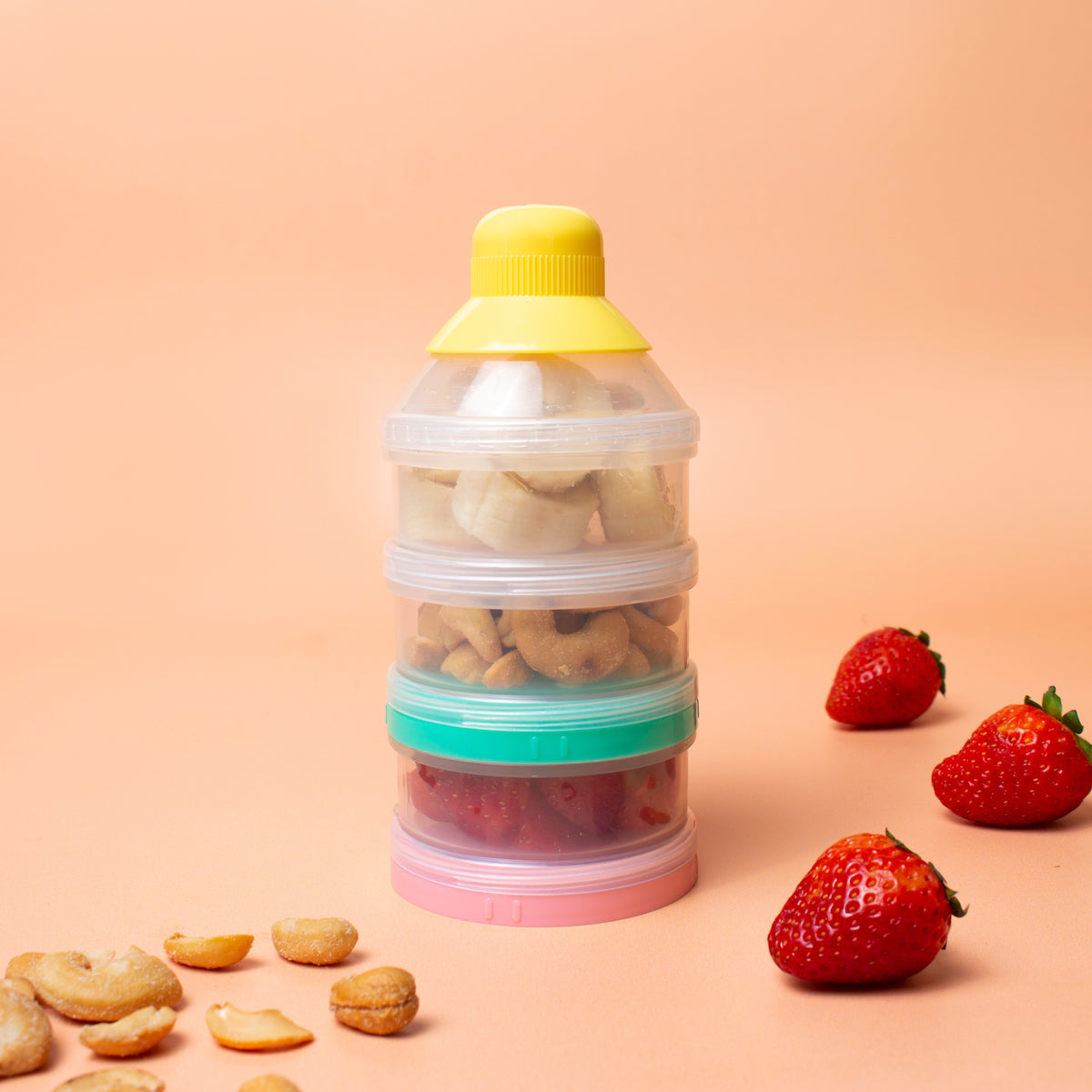 <! –– Bazaarvoice Shopify Integration Version 2.1 ––>