Flexible™ Peristaltic Teat M 2pcs
<! –– Bazaarvoice Shopify Integration Version 2.1 ––>

Offering features unique to the Pigeon Baby brand, the Flexible™ Peristaltic teat has a special venting system, slim neck and double thick material. These features allow for seamless latching, as well as reducing swallowed air and colic in babies.
The Flexible™ Peristaltic Teat is both BPA and BPS free. Teat size M, round hole.
As a guide use this teat for babies 4-6 months old.
As each child is unique, the ultimate indicator of which teat to use is your baby.
Shipping
We offer free shipping for orders over a various thresholds and charge a flat rate of $12.50 for all other domestic deliveries.
Please allow up to 3 days for metro delivery and up to 6 business days for regional delivery.
Returns
At Pigeon, we are happy to offer you a return for change of mind within 14 days of delivery, on most full price items.
Visit our Shipping and Refund Policy pages for full information.
FREQUENTLY ASKED QUESTIONS
FREQUENTLY ASKED QUESTIONS
Why does it look like the teat is closed?
This teat opens only when your baby sucks. The harder the baby sucks, the more the teat will open and vice versa.
How do I know when to change to the next size of bottle teat?
We recommend that you get the cues to change size from your baby rather than the teat packet. Age recommendations for teats are very difficult because each baby develops at a different rates.
Ways you can tell that your baby should move up a teat size.
It might be time to consider a larger teat if:
Your baby is fussing every time they feed – this could mean that they are getting frustrated with the flow of milk from the bottle as it's not coming fast enough.
The teat keeps collapsing when the baby is drinking, (and it's not because the air flow valve is blocked). This can mean that the baby is sucking too hard for the size of the hole in the teat and a vacuum is being created, hence the teat collapses. The baby is now trying to drink faster than the size of the teat will allow.
How long do silicone nipples and teats last?
We recommend changing Pigeon teats every 2-3 months, taking into consideration how many you have in rotation. Change your baby bottle teats immediately if they're damaged, weak or have bite marks.

If your teats have discoloured it is likely that they have been in contact with high temperatures during washing and sterilising.

Kindly check the temperature for your electric steriliser that it doesn't exceed 110 degrees celsius and discard discoloured teat.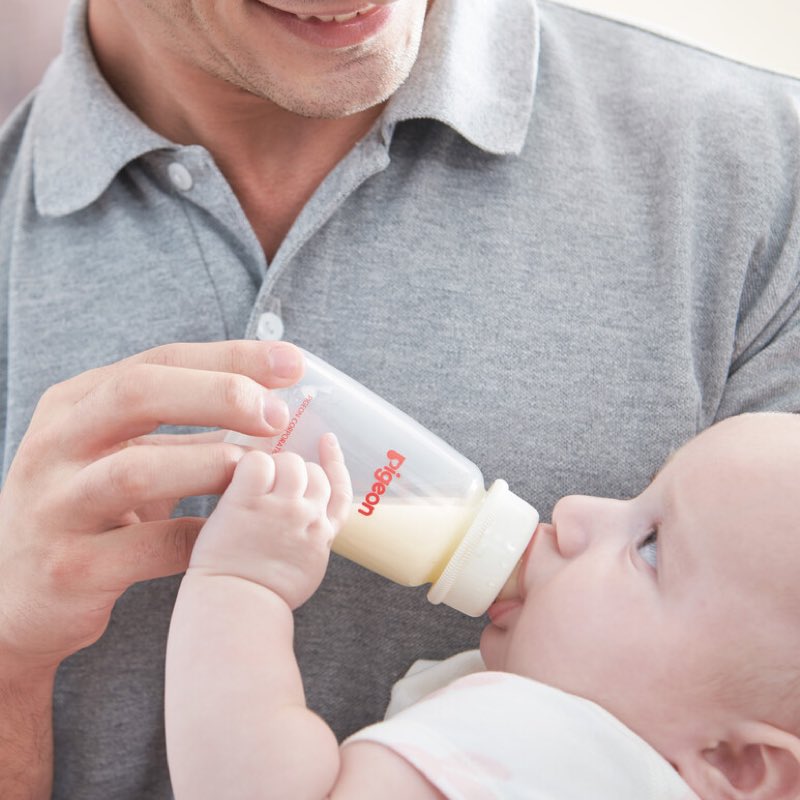 <! –– Bazaarvoice Shopify Integration Version 2.1 ––>