Breast Milk Storage Bags 25 Pack
<! –– Bazaarvoice Shopify Integration Version 2.1 ––>

Pigeon Breastmilk Storage Bags provide a sterile and convenient way to store expressed breast milk. The breast milk storage bags are pre-sterilised, making it ready to use
The storage bags have a clever design make them self-standing for ease of transfer of milk between pump and bag, as well as upright store in the fridge.
A pour spout allows spill free transfer of milk and there is a double zip closure to minimise risk of any leaks.
Can be frozen for longer term breast milk storage.

Shipping
We offer free shipping for orders over a various thresholds and charge a flat rate of $12.50 for all other domestic deliveries.
Please allow up to 3 days for metro delivery and up to 6 business days for regional delivery.
Returns
At Pigeon, we are happy to offer you a return for change of mind within 14 days of delivery, on most full price items.
Visit our Shipping and Refund Policy pages for full information.
FREQUENTLY ASKED QUESTIONS
FREQUENTLY ASKED QUESTIONS
What is the best way to store my breast milk in our freezer?
Try to keep bags less than two-thirds full, as your breast milk will expand during freezing. Store frozen breast milk towards the back of your freezer where the temperature is most consistent.
Which material is the Pigeon Breast milk Storage Bag made from?
Pigeon Breastmilk Storage Bags are made using food-grade Polyethylene.
Can you wash and reuse Pigeon breast milk storage bags?
Disposable storage bags should only be used once. Out of the box these storage bags come pre-sterilised, but after use, they are no longer sterile and should be thrown away.
How long can I store breast milk in the freezer?
Freshly expressed or pumped milk can be stored at room temperature for up to 6 hours. In the refrigerator for up to 3 days. In the freezer for up to 6 months.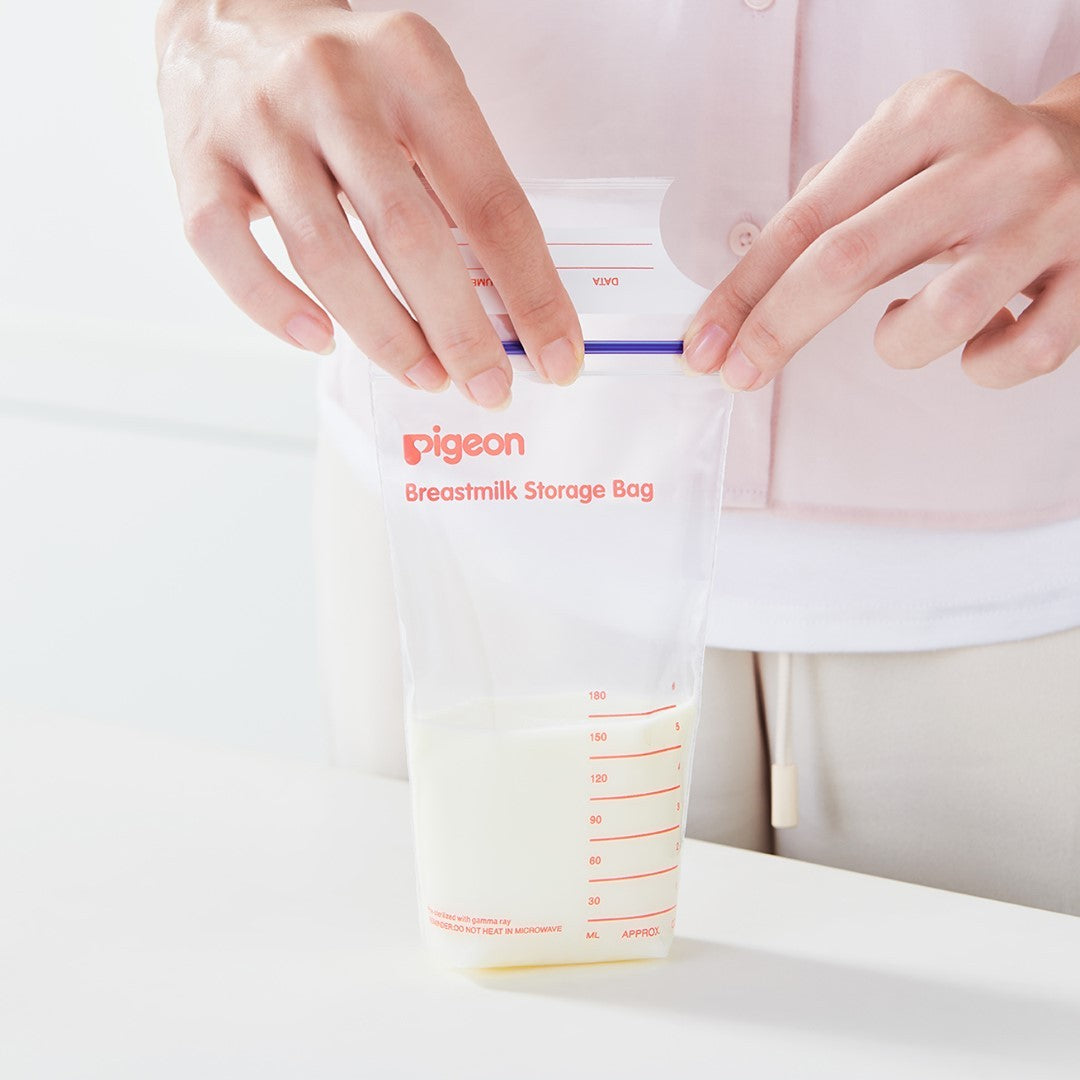 <! –– Bazaarvoice Shopify Integration Version 2.1 ––>