Pigeon Liquid Cleanser 450mL
<! –– Bazaarvoice Shopify Integration Version 2.1 ––>

Pigeon Liquid Cleanser is a multi-use cleaning product for use on baby bottles, teats, toys and accessories.
Use also to wash fresh fruit and vegetables.
Naturally biodegradable, Pigeon Liquid Cleanser is made from food grade ingredients and contains no harsh chemicals.
Effectively kills 99% of bacteria.
With a low sud formula, Pigeon Liquid Cleanser is easy to rinse and removes tough milk stains to keep bottles looking good.
Size: 450mL bottle
Shipping
We offer free shipping for orders over a various thresholds and charge a flat rate of $12.50 for all other domestic deliveries.
Please allow up to 3 days for metro delivery and up to 6 business days for regional delivery.
Returns
At Pigeon, we are happy to offer you a return for change of mind within 14 days of delivery, on most full price items.
Visit our Shipping and Refund Policy pages for full information.
FREQUENTLY ASKED QUESTIONS
FREQUENTLY ASKED QUESTIONS
How do I use Pigeon Liquid Cleanser?
We recommend using our liquid cleanser in one of two ways.

1. Squeeze some liquid onto a soft sponge and scrub normally. Rinse thoroughly with water.

2. Into a large bowl of water, dispense a small amount (around 2ml) for every litre of water. Scrub normally and rinse off with water.
What's the best way to clean a Baby Bottle?
Clean Feeding Bottles, Nipples/Teats, etc. by pouring the cleanser directly onto the baby bottle brush.
Is baby bottle dishwashing soap necessary?
Yes. We recommend using a safe a gentle baby dishwashing soap that doesn't contain harsh chemicals to safely clean baby bottles and teats.
What else can I clean with the Pigeon Liquid Cleanser?
This Pigeon dishwashing liquid can also be used to gently clean sippy cups, pacifiers, dummies, teethers and breast pump components.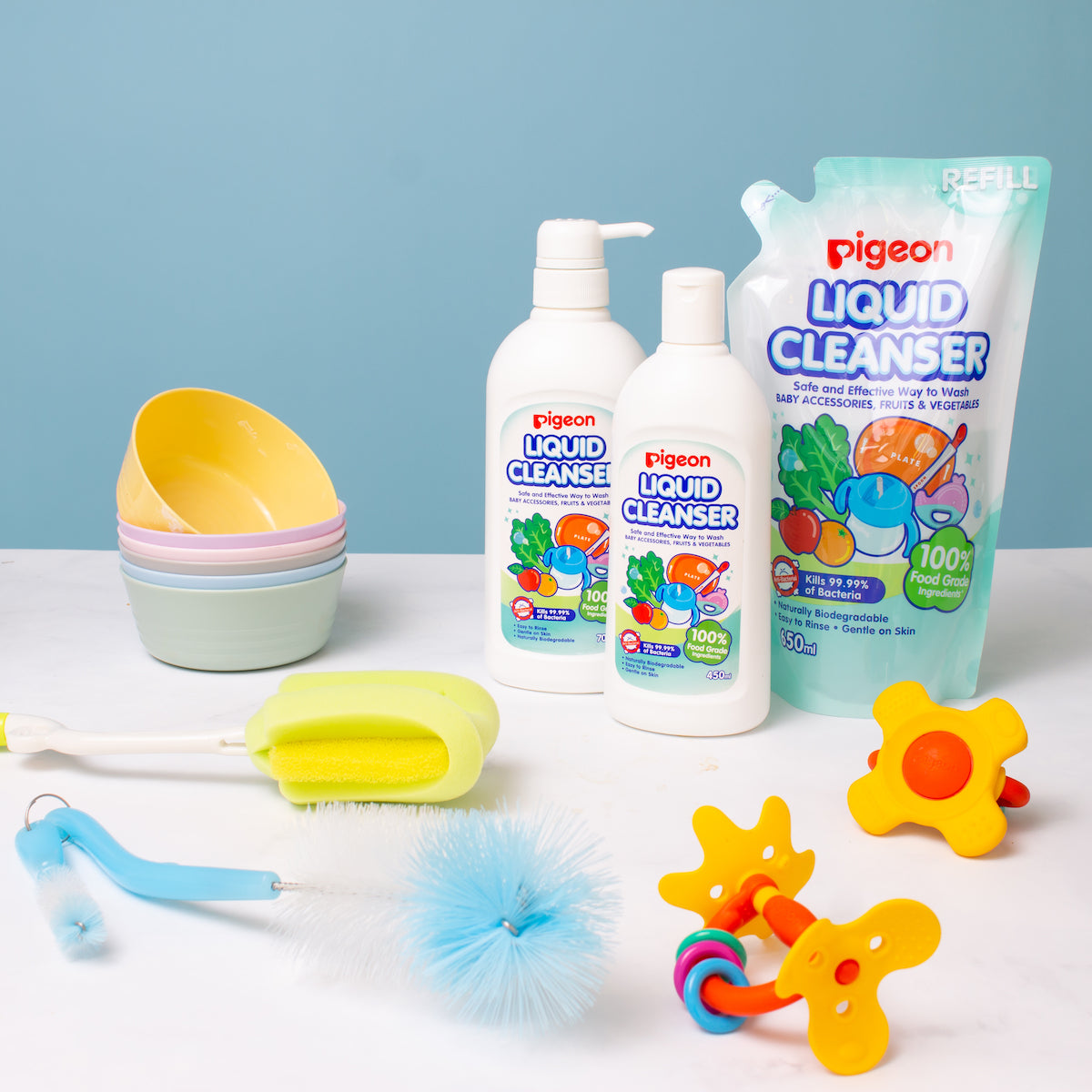 <! –– Bazaarvoice Shopify Integration Version 2.1 ––>